Val di Fiemme, Dolomiti, Trentino

Your search
4-star-hotels Val di Fiemme
The Hotel Ancora in Molina di Fiemme boasts more than 100 years of history and offers charming hospitality, tradition and innovation. The atmosphere is cozy and elegant, with intriguing premises.
The Park Hotel Bellacosta is located near the center of Cavalese and it's the ideal place to take a break from the hustle and bustle of the daily routine and spend a holiday immersed in the nature. The staff will welcome you and pamper you...
offers
20/06 - 11/07/2020

from 70€ per day

04/07 - 19/09/2020

from 308€ per week

20/06 - 20/09/2020

from 770€ per week
Characteristics
Hotel ideal for families, where mom and dad have the chance to relax and pamper themselves in the large wellness area, while children discover a fabulous world rich in fun and new friends. Unique and unforgettable moments of pure relaxation are waiting for you!
offers
21/06 - 25/06/2020

from 282€ for 3 days

20/06 - 05/07/2020

from 504€ per week

20/06 - 19/07/2020

from 588€ per week
Characteristics
Perfect for both summer and winter vacations, Hotel Olimpionico is the ideal accommodation for families with children, mountain and outdoor lovers, sportsmen and whoever is looking for a vacation surrounded by nature in Val di Fiemme.
offers
04/06 - 07/07/2020

165€ for 4 days

11/07 - 15/07/2020

165€ for 4 days

04/06 - 03/10/2020

330€ per week
Characteristics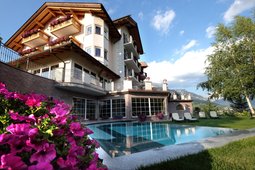 Welcome to Hotel Lagorai Resort & Spa in Val di Fiemme! The hotel is set in a unique, sunny position, with view on the entire valley. The hotel is located in the heart of the Dolomites, surrounded by a lush and still wild nature.
offers
21/05 - 10/10/2020

from 261€ for 4 days

21/05 - 10/10/2020

from 456€ per week

21/05 - 10/10/2020

from 532€ per week
Characteristics
The Hotel Bellavista and its owner Family Nones are glad to welcomes you. In this hotel you will experience a soft familiar atmosphere in a well-finished location, perfect for your holiday in the center of Cavalese in Val di Fiemme.
offers
17/07 - 08/10/2020

from 375€ per week

19/07 - 18/10/2020

from 250€ for 4 days

26/06 - 24/12/2020

from 236€ for 2 days
Characteristics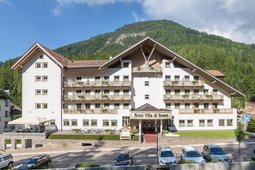 Hotel Apartments Wellness Villa di Bosco is strategically located in the center of Val di Fiemme. Surrounded by greenery and just 5 minutes from the ski lifts of Pampeago SkiCenterLatemar, it offers apartments and rooms with wooden floors and panoramic balconies.
offers
28/06 - 31/07/2020

from 850€ per week
Characteristics
Hotel Ancora, located in the centre of Predazzo, is run by the Craffonara family. Polite staff coupled with a wide range of proposed activities will make your holiday at the Hotel Ancora a pleasing combination of relaxation and fun for the whole family.
The primary goal of Gilmozzi family and its employees is that the customers feel like home. The hospitality of the Hotel Excelsior is the same as always, characterized by warmth, friendliness and hospitality.