hotels and apartments
sport and leisure
localities
information

Your search
Bed & Breakfast Val di Fiemme
Cavalese, Predazzo, Passo Rolle, Pampeago: b&b, rooms with breakfast
The Dolomites B&B offers rooms, suites and apartments in addition to a fantastic breakfast buffet.The rooms and suites were built in 2017, have been finely furnished and all of them come with a private balcony and all comforts.
B&B Corradini lies in Castello di Fiemme, only 3 km away from Cavalese. The house is surrounded by the enchanting landscape of the Lagorai chain and the Latemar Dolomites. It has been renovated according to the original methods characterising Trentino's typical building.
deals
26/03 - 10/04/2023

180€ for 2 nights

30/03 - 10/04/2023

320€ for 4 nights

01/05 - 01/06/2023

800€ for the entire period
Characteristics
The B&B Le Fontanelle is a family-run facility located in Carano, about 1,5 km away from Cavalese. It offers overnight stays as well as rich breakfasts with local products, such as yoghurt, cheeses, speck or handmade marmalades or cakes.
deals
28/03 - 07/04/2023

from 50€ per night
Characteristics
Authentic and traditional, but not without all modern comforts! A hearty welcome from the Nones family! Their farm offers the warmth of old-time wood-coated lounges, of traditional furniture and natural materials harmoniously coupled with modern and comfortable services.
deals
28/03 - 04/06/2023

from 53€ per night

10/06 - 02/07/2023

from 55,50€ per night

10/06 - 27/07/2023

from 55,50€ per night
Characteristics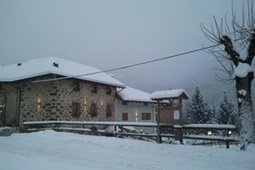 An ancient farmhouse of 1700 has been turned into a cosy home in order to offer memorable holidays. 8 rooms have been created, very bright and equipped with all amenities. The small village of Panchià is situated in the middle of Val di Fiemme, renowned for its natural beauty.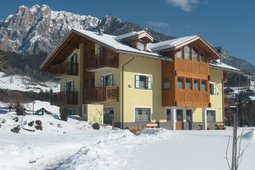 The Agritur Maso Chemela situated in Cavalese was designed and built according to the principles of energy saving: it uses wood for the heating and the solar energy for the hot water. The furnishing is entirely made of wood from the valley.
The owner Cristina will be happy to welcome you in her small Garni Belvedere. It is located in Bellamonte, very close to the Natural Park Paneveggio in the Dolomites, which is part of the UNESCO World Heritage.
Garnì Maso San Michele, is an old historical building from 1846. Elegant, romantic and recently renovated, it is equipped with all the best facilities. It offers the guests a friendly family atmosphere.
deals
18/03 - 10/04/2023

155€ per night
Characteristics
The farmhouse Col Verde is immersed in a vast greenery at the gates of Predazzo. It is a family-run farm that welcomes its guests in a rural setting close to the nature. Animals are bred naturally and fed with fodder produced on the farm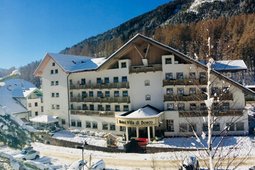 Hotel Apartments Wellness Villa di Bosco is strategically located in the center of Val di Fiemme. Surrounded by greenery and just 5 minutes from the ski lifts of Pampeago SkiCenterLatemar, it offers apartments and rooms with wooden floors and panoramic balconies.