Val di Fiemme, Dolomites, Trentino

Your search
Castello-Molina: Hotels, B&B, Residence and holiday apartments
The Hotel Ancora in Molina di Fiemme boasts more than 100 years of history and offers charming hospitality, tradition and innovation. The atmosphere is cozy and elegant, with intriguing premises.
offers
03/08 - 25/08/2019

from 370€ for 2 days
Characteristics
Perfect for both summer and winter vacations, Hotel Olimpionico is the ideal accommodation for families with children, mountain and outdoor lovers, sportsmen and whoever is looking for a vacation surrounded by nature in Val di Fiemme.
offers
05/09 - 12/09/2019

from 165€ for 4 days

22/09 - 27/09/2019

165€ for 4 days

05/09 - 06/10/2019

308€ per week
Characteristics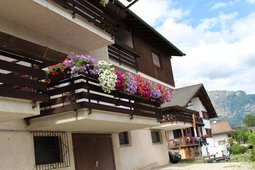 The Apartments Eccher Renzo are situated in Castello di Fiemme, in a quiet location away from the traffic, but only 5 minutes walk from the centre of the village. The house offers a beautiful view on the wonderful landscape of the Dolomites.
offers
07/09 - 30/09/2019

390€ for 2 days
Characteristics
The apartment is situated in the village of Castello di Fiemme, in the beautiful Val di Fiemme in the Trentino region. It is located on the first floor of a private house. Free Wi-Fi in the apartment.
Experience the thrill of being active and breathing in deeply, climbing high peaks or waiting patiently for a fish to bite. The Hotel Italia helps you to savour all of these emotions in the splendid Fiemme Valley, where nature is an experience of the senses.