Val di Fiemme, Dolomites, Trentino
hotels and apartments
sport and leisure
localities
information
?

Your search
Predazzo: Hotels, B&B, Residence and holiday apartments
The farmhouse Col Verde is immersed in a vast greenery at the gates of Predazzo. It is a family-run farm that welcomes its guests in a rural setting close to the nature. Animals are bred naturally and fed with fodder produced on the farm
offers
07/06 - 07/07/2019

from 38€ per day

30/08 - 29/09/2019

from 38€ per day
Characteristics
Located in one of the quietest and sunniest areas of the valley, but nevertheless centrally positioned, the Lagorai Residence with its large terraces and proximity to the children's park, equestrian center and bike trails makes for the ideal place for a family holiday.
Hotel Ancora, located in the centre of Predazzo, is run by the Craffonara family. Polite staff coupled with a wide range of proposed activities will make your holiday at the Hotel Ancora a pleasing combination of relaxation and fun for the whole family.
offers
02/06 - 30/09/2019

from 70€ per day

29/05 - 13/10/2019

from 50€ per day
Characteristics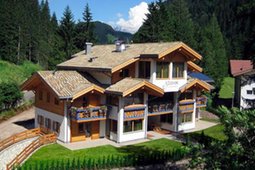 Located in a strategic position, 800 m from the centre of Predazzo in the beautiful Val di Fiemme, the Color Home Residence is an enchanting chalet consisting of 8 large and spacious apartments. It is classified as Climate House A.
offers
10/04 - 01/06/2019

from 135€ for 2 days
Characteristics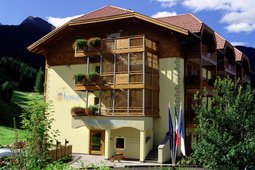 Residence Kristall in Val di Fiemme is full of light, peaceful and perfect for relaxing moments. Located in a quiet position on the edge of the woods, not far from the center of Predazzo, it is the ideal retreat for a relaxing holiday, thanks to the marvelous wellness center.
The apartment Negritella offers all the comforts to ensure guests a relaxing stay. The kitchen has all the amenities, including a wood stove, dishwasher and electric stove. The coatings and finishes of the living room furniture is made of larch wood with sofa and fireplace.
offers
23/03 - 31/05/2019

300€ for 2 days

26/04 - 20/06/2019

450€ per week
Characteristics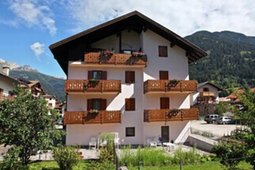 The house is located in the center of Predazzo, in a quiet and panoramic position. The family run house has 5 apartments for weekend, weekly or monthly rent. The apartments offer 3 to 6 beds, TV, private parking, garage for skis and bicycles, barbecue and garden.
This apartment is located in the center of Predazzo, Fiemme Valley, in a very convenient position close to a backery, a newsagents and a supermarket. The location is an ideal starting point for walks, trips and excursions on foot or by bike.
The Apartments Boninsegna Chiara are situated in a private and historic house, tastefully furnished and located in the centre of Predazzo, in a quiet and sunny secondary street close to the main square. The house is composed of two apartments.
Placed in a very peaceful green area only 10 minutes on foot from the centre of the village, with a wide private parking place, surrounded by beautiful mountains, blue sky and fresh air. Enjoy your holiday in a relaxing and welcoming atmosphere.