Val di Fiemme, Dolomites, Trentino
hotels and apartments
sport and leisure
localities
information
?

Your search
Tesero-Stava-Pampeago: Hotels, B&B, Residence and holiday apartments
Welcome to the Apartments Trettel Paolo! The house is located in Tesero, in the middle of Val di Fiemme, and is the perfect place for people who love nature and the mountains. Tesero is a touristic-relevant village that attracts many visitors both in summer and in winter.
The Dolomites B&B and Apartments offers rooms, suites in addition to a fantastic breakfast buffet. The rooms and suites were built in 2017, have been finely furnished and all of them come with a private balcony and all comforts.
offers
31/01 - 16/03/2019

from 500€ for 4 days

31/01 - 16/03/2019

from 110€ for 4 days

31/01 - 16/03/2019

from 460€ for 4 days
Characteristics
The apartment is very large and comfortable, located in the village of Stava di Tesero in Val di Fiemme, in a very quiet and sunny area. It is located on the ground floor and has a beautiful garden and a terrace both equipped with table, deck chairs and barbecue.
offers
27/01 - 10/02/2019

800€ per week
Characteristics
The Hotel Erica is located two kilometers from the town of Tesero in Val di Fiemme, surrounded by the Lagorai mountain ranges, the Pale di San Martino and the Latemar massif. The hotel offers hospitality and comfort with beautifully decorated rooms.
offers
18/01 - 26/01/2019

from 204€ for 4 days

05/12 - 21/04/2019

from 209€ for 2 days

16/03 - 21/04/2019

625€ per week
Characteristics
Holiday apartment lovely furnished with attention to the smallest details, located on the first floor of an historic house in the center of Tesero, a pictursque village in Val di Fiemme. The position of the house is very convenient to reach everything you may need.
offers
26/01 - 09/02/2019

600€ per week
Characteristics
Large apartment to share with friends and family, it can accommodate up to 10 people. It is situated in a sunny location with beautiful views of the Lagorai and the Brenta mountain group.
The Residence Mich in Tesero offers plenty of space, comfort and independence amidst the evocative nature of the Dolomites. Holidays means first of all freedom, and the apartments of Residence Mich are ideal for this type of holiday in Val di Fiemme.
offers
06/12 - 31/03/2019

from 168€ for 2 days
Characteristics
Hotel ideal for families, where mom and dad have the chance to relax and pamper themselves in the large wellness area, while children discover a fabulous world rich in fun and new friends. Unique and unforgettable moments of pure relaxation are waiting for you!
offers
16/03 - 31/03/2019

from 474€ per week

01/05 - 16/06/2019

from 252€ for 3 days

05/05 - 14/07/2019

from 518€ per week
Characteristics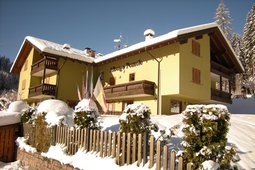 Albergo Pozzole is located in Stava, near Tesero in the Val di Fiemme, surrounded by lush nature in a panoramic, quiet area. This is the perfect destination for a relaxing holiday.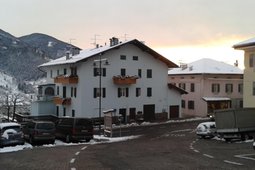 Casa Sartori offers a holiday apartment with kitchen, sitting room, double bedroom with terrace, a room with bunk bed, a bathroom and a storage room. The apartment comes with a washing machine, electric cooker and oven, a fridge with freezer, wifi, bed and bath linen.
Hotel Al Cervo is a family run accommodation in the heart of Val di Fiemme, in the historical centre of Tesero, a little alpine village which has maintained its traditional features over the decades, including its traditional pedestrian area, churches and artisan workshops.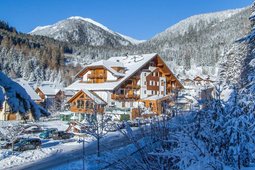 "Living a relaxing holiday and sports" - this is the motto of this hotel. The Hotel is situated at the foot of the Latemar in a relaxing and quite area, ideal for excursions of all kinds.